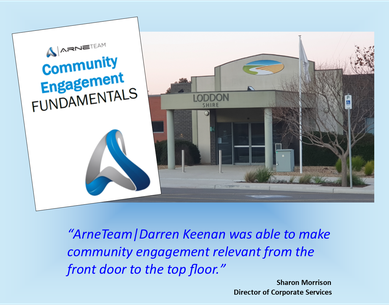 For an organisation to be truly engaging, the whole organisation needs to be onboard. A single person or action can diminish (or lose) the trust that the organisation has built with its stakeholders.
Recently when delivering our ArneTeam Community Engagement Fundamentals professional development session to Loddon Shire Council in Wedderburn, rural Victoria, it was great to have a broad range of staff on hand in the session.
Of particular interest, was the inclusion of some of the council's outside workers. You know the people in the hi-viz shirts, like the guy who mows the lawns in the town's main street. It was great to see that they not only understood that they needed to engage, but they were already doing it.
Perspective is important, is it a 6 or a 9? Depends where you are standing. Not every staff member is the community engagement practitioner, as not every staff member is the customer service officer – we do all have a job to do though.
One participant commented "The session was interactive. We had a broad range of backgrounds and experience in the session and it was really interesting to listen and understand everyone's views/perspectives."
ArneTeam Community Engagement Fundamentals is a session that brings commonality to the understanding of an organisation. It provides common definitions to the words that we all use every day, often with different meanings, like "engage" or "engagement". Further to the common language, it provides tools to build upon good engagement practice – practical tools that can be applied to community engagement practice, immediately improving the quality of the organisation's engagement practice.
Having a whole organisation committing to quality community engagement practice will deliver results; for the organisation and the community that it serves. Loddin Shire Council have taken a further step forward.
"ArneTeam|Darren Keenan was able to make community engagement relevant from the front door to the top floor"     Sharon Morrison, Director of Corporate Services, Loddin Shire Council