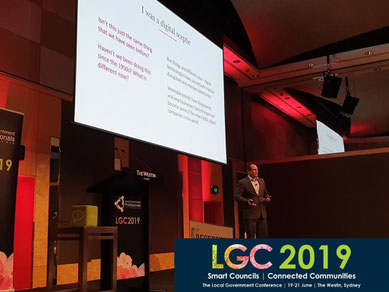 IAP2 Australasia recently invited Albert Matthews from ArneTeam to represent them as their panel delegate at the NSW Local Government conference.
The panel discussion topic was: How is digital Improving engagement? The way councils engage with the community has been re scripted over the past decade. As technology advances and 'smart' becomes a part of our everyday lives, community expectation on council's engagement methods have also advanced.
Apart from Albert the panel also consisted of:
 

Lisa Parson from the City of Santa Monica

 

Marissa Racomelara from Georges River Council
Daniel Fulton from Queanbeyan-Palerang Regional Council
The session discussed and explored modern engagement methods and how it's delivering outcomes for communities and councils around NSW.  Drawing on the work that ArneTeam did on the industry research paper "Digital Community Engagement in Australia 2019" it was interesting to discuss how emerging technologies such as augmented reality, virtual reality, gamification and apps that target audiences based on their location is starting to have an impact on the tools being selected by local government.  We also touched on the topics of Organisational Culture, the importance of a person-centred approach to engagement planning and successfully engaging with hard to reach groups (CALD, seniors, youth, disability, indigenous and low socio-economic groups).
It was apparent from the discussions that the appetite for digital engagement tools varied greatly within local governments. It was the local governments that committed the resources and had the capacity for these emerging community engagement technologies that were experiencing the greatest success. These local governments were adamant that community engagement is a whole of organisation responsibility not just the community engagement teams, they support their organisation by providing organisation wide community engagement professional development.
The consensus was the best approach to community engagement was:
 

Ensure that your community engagement strategies, frameworks, policies, procedures and templates are current and reviewed regularly to ensure that they remain current.

 

Community Engagement professional development is important for the whole organisation

 

Don't solely rely on digital community engagement tools but use the different methods available to ensure that the community was engaged 
Map your audiences/community so that you know how to best engage with them.
In all it was a great session with lots of questions from the floor and lively debate.  We would like to thank IAP2 Australasia for extending the invitation and to the NSW Local Government Professionals Australia Association for making a donation to the Buy a Bale charity which supports farmers struggling through the drought in behalf of all the speakers in the panel.