What is Community Engagement?
Community engagement occurs through mutual communication and deliberation between the government and diverse group of citizens. Ideally a formulation of government services and policies with public participation or collaboration from a diverse group to wholly represent the community is made. The decisions constructed together usually grow the community with government goals being met.
There are various arrangements, structures and processes to carry out these interactions between the government and the public. The broad spectrum of 'Community Engagement' can be divided into types based on the contact or engagement level. It helps to know the types when selecting what engagement method to go with for projects.
The WHY,
Community engagement helps promote trust between the government and community/stakeholders and in many cases will bring up ideas that you would not have thought of otherwise. Providing the correct opportunity for participation to the community and stakeholders to participate in, and usually will mean open communication between the parties. Democracy is kept as parties are given a say through some degree of interaction and public participation. Good community engagement throughout different stages of a project is also the key to have the public committed to the decisions that are made in the end. That is why learning more about the type of community engagement you're dealing with, to selecting the best communication tools will help build the most effective community engagement opportunity to create trust.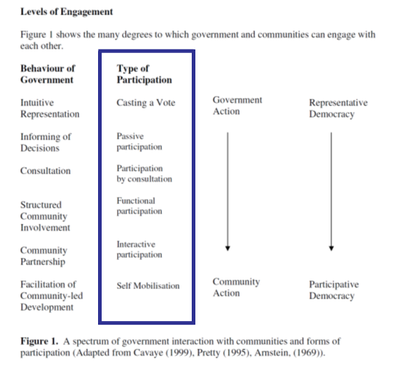 Types of Community Engagement
Can be divided based on the level of engagement or the Type of Participation as highlighted by the blue box in Figure 1.
The level of expected participation divides into:
     ·     Casting a Vote 
Most basic form of citizen participation. This is an act of participation in government that is compulsory in Australia.
     ·     Passive Participation
Citizens participate passively in a one-way relationship with government through which the latter informs citizens of decisions and disseminates information.
     ·     Participation by Consultation
Consultation involves two-way communication between government and communities but only in providing feedback to government. A specific issue or proposal is focused on usually as the government defines the issues and controls decisions. Citizens comment on the proposal or issue, or provide information and opinion.
     ·     Functional Participation
Quite a structured community involvement. Advisory committees or representative panels mediate the community input. People that represent the true community are invited to join the government on specific projects or other forms of formal involvement. Material incentives (such as a funded project) encourage citizen participation or people may contribute their time and resources. 
     ·     Interaction Participation
Government and communities involved in joint decision-making, shared leadership and common goals. People participate equally and fully in a joint learning process. Involvement is natural and self-sustaining.
     ·     Self Mobilisation
Communities self-mobilise, controlling decisions, resources and actions. Government can help facilitate the community-led process at the invitation of the community.
Planning of projects and choosing what method/action the government should make will require the government to match the expected level of engagement looking to be achieved.
Some tools that may be useful to keep in mind for your next community engagement plans:
1. Advisory groups
     ·     Advisory or reference groups
     ·     Steering committee
2. Information sessions
     ·     Key stakeholder briefings
     ·     Deliberative workshops/ forums
     ·     Field trip / site tour
     ·     Publications
3. Consultation
     ·     Focus groups
     ·     Informal engagement
     ·     Community information and feedback session
4. Digital Engagement
     ·     Surveys
     ·     Social media (Facebook, Twitter, YouTube)
     ·     Visuals (e.g. Maps, Location-based tools)
     ·     Online Co-creation documents
     ·     Mobile Apps
     ·     Websites
In deciding which one, it'll be a dynamic and fluid process based on the various needs of the project. There won't be a single perfect method. Templates can only be made for understanding the process for creating an engaging engagement project. That is knowing things like:
     ·     IDENTIFYING your target community for projects,
     ·     SETTING the goals for the engagement project,
     ·     CHOOSING the best tools within a budget and time-frame,
     ·     ANALYSING the projects validity in accurately gathering feedback and information,
     ·     MAKING reasonable and useful interpretations of the responses,
     ·     RELAYING the interpretations into understandable forms back to all parties involved,
     ·     and MEASURING and EVALUATING the success of the project for future reference.